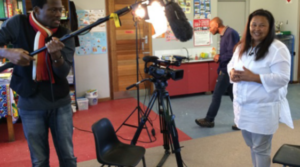 My name is Ada Brown and I am a Grade R educator at Littlewood Primary School in Mitchells Plain. Growing up was not easy for me as I lost both my parents at a tender age of twelve. My sisters and I was then sent to a children's home. It was here where my passion to work with children started and I am still assisting children in the community.
Being a teacher in a disadvantaged area comes with its challenges. Here the learners are exposed to poverty, violence, gangsterism, drug and alcohol abuse.
When I heard about Wordworks I thought that it was going to be the same as all the other literacy and language workshops. After the first workshop I saw that there was something different. I left the workshop very excited. I immediately read Ali and the paint and prepared the activities for the week. By the third day I could see a change in my learners. The shy learners were participating and the busy learners settled down because they could not wait for their turn to tell the story, using the puppets.
Wordworks is a very positive way of teaching early language and emergent writing skills. For me personally it really works and it is designed in such a way that it caters for all the different ways in which children learn. My learners have become strong emergent writers and their vocabulary has increased tremendously. They have also become very confident in telling stories and role playing them.
When Angelique asked if she could come and film my learners and I, I said "yes" because I knew that with the filming, many teachers, parents, community members and volunteers would be encouraged and empowered. This has been an exciting and rewarding journey for me as well as for the learners.