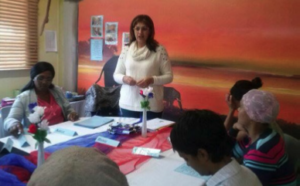 Carmen Petersen is a Grade One educator at Eastville Primary in Mitchell's Plain, and a wife and mother of two teenage children.
"I got involved in the Home School Partnership Programme because I realised that the parents at our school are eager to help their children but are not equipped. I believed that assisting and empowering them would bridge the gap between home and school, and that our literacy levels could only improve.
We received a very positive response from our parents. Some even took leave every Thursday just to be present every week. The big 'aha moment' came when parents realised that they weren't expected to be like their child's teacher at home. They were to put the fun back into being a parent – not a stressed out parent who shouted and punished the child. They started seeing all the teaching and learning opportunities that came up on a daily basis and could confidently reinforce what the child had already learnt at school.
I absolutely LOVED facilitating the Wordworks programme. There wasn't a week that I sighed! I became much more relaxed with the parents and we formed a WhatsApp group. And now that it is all over, we have a support group meeting twice a month, just to stay connected."