An interview with Erina about her experience with the Wordworks STELLAR programme.
*How long have you been a Grade R teacher?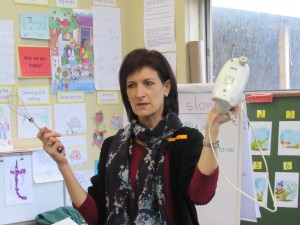 10 years
And how long at Oakhurst?
I introduced the first Grade R class at Oakhurst 5 years ago.
*What is it about teaching this age group that inspires and excites you?
I get to mould some part of their personalities while they are young and 'mouldable'. They are absolute 'sponges', but it's not just about the cognitive – it's about looking at the whole child – and it's so exciting to see their social interaction develop as well.
*How have your girls responded to the STELLAR stories and activities?
They have absolutely loved them! They get very excited about the role play. They use the vocab we have discussed. It's the richness of the programme. They can take the stories and apply them to their real life. They have also enjoyed writing their own stories, and now I have a bigger group of girls than ever before who are willing to have a go at writing!

*What do you feel STELLAR has brought to your Grade R classroom?
It has brought a structure which is used as the basis for my home language slot. It makes it easy to work it into our daily programme. The Letter & Sound games and all the extra things are enjoyed, even during free play time. 
*Have you had any comments from any parents or any colleagues about the STELLAR component of your Grade R curriculum?
Yes! Parents say the girls are excited about reading their stories to their parents (though they didn't think they would be). Erina has noticed that a bigger group than previously (about 20 out of the 24 in her class) are keen to have a go at reading. They read their little books and other books too!  Parents can't believe that they are sounding out the words.  
*What was your feeling/response when you were asked to be a Lead Teacher for the ELIT project?
When we were informed, we didn't really understand what we were being asked to do, or what the programme was all about. Two weeks on one story seemed too long and I thought the girls might get bored. However as I have worked in the STELLAR programme, I realise that there is so much you can do by way of extension to suit your group.
*And how did it play out? As you expected it would?
I discovered that because you deal with the story for two weeks, the extensions are deep and you can deal with them. The children initiate the extensions – and I allow them to lead me. It takes them to a point of self-initiated learning! There were discussions about the different kinds of buck, and the various members of the cat family.
*Can you share one or two highlights? Feel free to include challenges as well.
The role play was particularly successful. The girls found their voices, even if they were quiet. Because they knew what the characters said, they felt confident.
There was a lot of discussion and reasoning, for example they had to decide when Frog (a STELLAR story character) should go into Bushbuck's house. 
Then also the repetition and consolidation of sounds that led to the girls being more confident. They started sooner in the year (than previously) to have a go at writing.
*Personal growth on this journey?
I have grown as a teacher. This programme has helped me to see how far you can extend the children… and then they go even further! I loved being a lead teacher.
Engaging with other teachers has been wonderful. When teachers are supported and encouraged, they will move from strength to strength.  I am a stronger person, more grateful for what I have, and more hopeful for education in this country. Having teachers helping teachers is the way of the future – not only for Grade R, but for education in general.
Regarding my interacting with the teachers: it made so much sense to discuss things, and then you know that those teachers are experiencing what you are talking about. You feel like they understand! We had spoken about the CAPS but it was only when we sat with the old and the new CAPS documents on the tables that the lights went on.  
I felt so energised after the Block training – seeing the dedication, the positivity, and the willingness to put it into practice. It was mind-blowing for me, and so very encouraging to see the calibre of the teachers.
As much as I have been able to give, I feel like I have just received so much more!