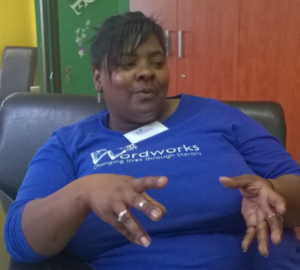 Gail Lindsay is the Coordinator of the flourishing Ready, steady…read and write Programme at West End Primary School. In 2016, she will also assist Spineview Primary to set up their programme.
"I've been working in the community, since the age of 13, in sport, youth groups and as a counsellor. I was introduced to the lovely Wordworks parent programme when I was running an aftercare from home and then I attended training for the Ready, steady … read and write Programme. After the first day of training, I knew I wanted to continue.
When I started as Co-ordinator at West End we had very little space. Volunteers did not have chairs, and were kneeling on the floor during sessions. Now, because of the results we are achieving with learners, the Principals Association is building us a Wordworks classroom!
I don't want my 22 Volunteers to scatter, so we support each other. After the Volunteers arrive for their classes, they use the hand sanitiser, we pray, talk to each other, and only then we fetch the kids. The day does not end on the school grounds, we like to stay connected on the group chat every day. We meet monthly to discuss issues that Volunteers write in their diaries. This makes us aware of changes in our kids so we can tell their teachers. Recently we all went together to join the library. It is a whole new environment!
 I don't work for any boss, I'm a volunteer…and how I enjoy it, because I am doing something positive with my life! What keeps me here is the passion I have to work with children and my love for the community."