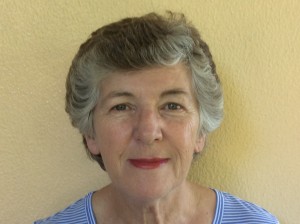 Here is another remarkable story by a member of the Wordworks network – this time from KZN. We are inspired by women like Sheilagh who, in their later years, believe they can make a difference and take the initiative to start a project.
Firstly many thanks to Wordworks for your inspiring programme and support. Without that I would never have got started on this venture. My name is Sheilagh Bill and I am the Co-ordinator of a "Ready, Steady, Read and Write" programme in KwaDabeka, Pinetown. I feel strongly that education is the key to uplifting our country and that reading skills are crucial. Now that I am retired I have time to give back and wanted to give children a helping hand. My background is in software development, so I have no teaching experience, but I do have a passion for reading. I wanted to join a project and heard about Wordworks from my daughter in Cape Town. It seemed just the right structured programme with all the resources provided to get started.
My friend Elaine, who is a teacher, agreed to join me and we approached our church for support. After the Wordworks training which was so interesting and helpful we started last year with 3 volunteers and have grown to 7 this year. We travel to the school where the principal welcomes us and we are building good relationships with the teachers. Fortunately our church, Westville Methodist, has a long association with the school and there is a group helping Grade R with some art and stories. All our volunteers are from our church and we have one Zulu lady who is a great asset as our biggest challenge is that most of us don't speak isiZulu which is the home language of pupils and teachers.
We have chosen to focus our programme on First Additional Language (English). We work with Grade 2's who have very little English although by Grade 4 the children are supposed to be taught in English.  We work on vocabulary to try and teach sounds and letters. The children are very shy to start but soon warm up and love coming to the sessions. It is hard to leave children out, but we can only take 28 out of 96 children in two Grade 2 classes.
Our volunteers are so dedicated and all love the programme and we have become a close knit team. We also started a school library last year and have collected about 600 books. It is still a work in progress and getting it to be used optimally is something I will be working on this year.