"For the first time in a long time my passion for teaching is coming back. A highlight was gaining confidence in what type of teacher as well as person I'd like to be and am capable of being."
Two facilitators from Wordworks travelled to Zimbabwe last week to introduce about 37 foundation phase teachers to the STELLAR programme.  The 28-hour teacher training took place over 5 days at Ilala Lodge in the town of Victoria Falls, in the north of Zimbabwe, and was enthusiastically received by all the teachers. There were 30 participants from Zimbabwe, 5 from Botswana and 2 from Zambia.
The participants from Botswana and Zambia got involved in the progamme under the umbrella of our sponsors, Children in the Wilderness (see more below*).
Teachers were excited about the new knowledge they had gained around oral language and emergent literacy and grateful for the ideas and games they were shown which could help to teach letters and sounds, emergent reading and emergent writing. Many indicated that they would use tips and ideas from STELLAR to create more opportunities for their children to practise oral language every day.
"This week was really an eye opener. I have learnt a lot. I know that oral language development is very good for pupils to be able to read. I know what phonological awareness is and I have many activities that one can do to promote language development. I also know that parents have a role in children's learning. I would like to thank the facilitators for such a wonderful programme."
Many of the teachers who participated work in remote areas under difficult circumstances, and many are volunteer teachers. They reported that they had little or no access to resources. The STELLAR file with its 8 high-quality story packs and the Letter and Sounds manual would fill a huge void for them.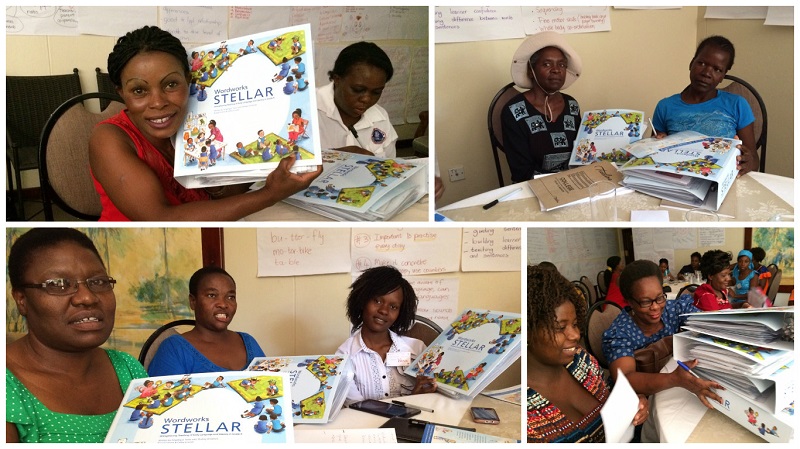 Spot, a central character in one of the STELLAR stories, was present at all 5 days of training, and he even accompanied the teachers to see Victoria Falls one afternoon after training. He became a symbol of the project and was clearly much loved by everybody. Ayoba Spot!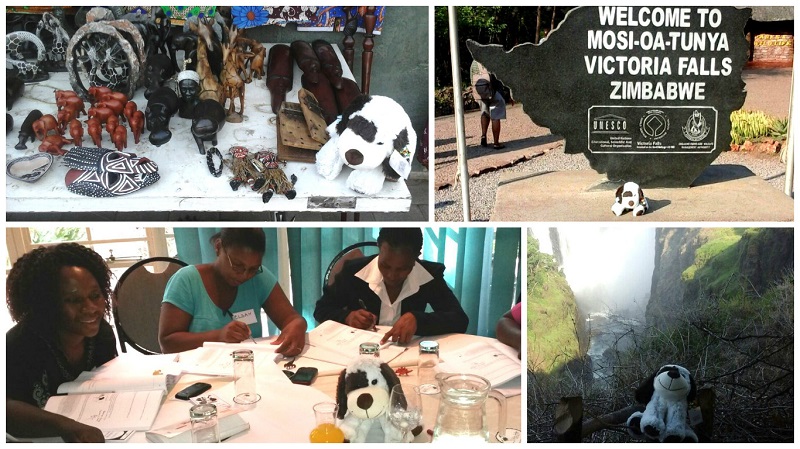 The training ended with group photographs and a modest but joyful certification celebration.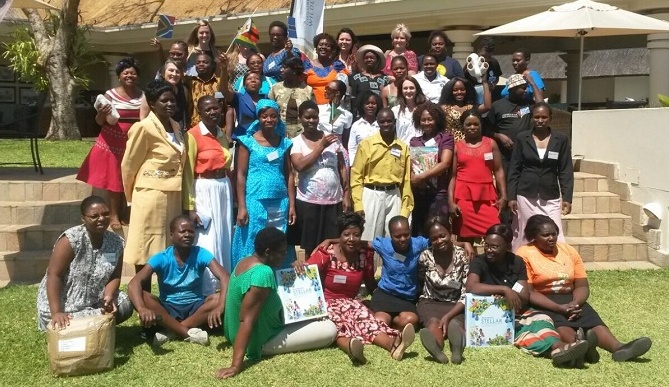 *The training was funded through Children in the Wilderness (CITW), a non-profit organisation supported by ecotourism company Wilderness Safaris, which aims to facilitate sustainable conservation through leadership development and education of rural children in Africa.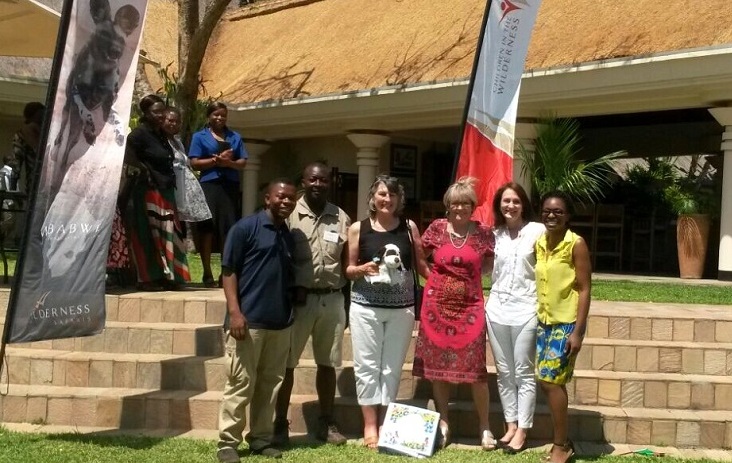 Grateful thanks to Sue Goatley, CITW programme co-ordinator, and her team, for everything that they did to make it happen, and to all the teachers for their keen participation, willingness to 'have-a-go' and their positive response to STELLAR.
Here are just some of the comments from the teachers:
"I feel that I have learnt much today, there are things that I have not been doing in my class that I am going to do. I was concentrating much on written work, ignoring oral language. I now understand the children who have developed oral language. I feel I am going to be a better teacher."
"The programme is very informative and a mind and eye opener because most of the things discussed do not cost money to implement – they just need  patience and active involvement from the  parents, teachers and administrators of the school."
"My feeling today is that I am very happy to be equipped with knowledge and understanding of the importance of ECD and how we can teach oral language. I hope I can help other teachers implement the curriculum".
"I feel more relieved. You taught me on how to deal with oral language in my classroom. I did not know that for me to start teaching them to read, I've got to teach them oral language. Dankie guys!"
"Highlights – The fact that children can be developed through the process of emergent reading and writing to be independent readers and writers without formal learning. Waaa!!!"
"My highlight was with the games. These games are so awesome and interesting and they will love  them. I have learnt how easy it can be to teach letters and sounds, because to me it has been a hard lesson that I dreaded to do, that means I never did it fully. So this time I am going to give it a go!"
"I enjoyed learning the way of making the little book. To me it was a WOW! And the breathtaking ways of creating the reading corner. It showed awareness and creativity at its best. I LOOOVED IT! I learnt something new about my kids, how they feel when I give them exercise, like the dinosaur activity. Now I am going to be more aware of them."
"Hello! I love the manual file because of all the interesting stories it has and the stories have given me an idea of how I can write my own stories too in future. So somehow you have inspired me. Wholesomely this was really great. I could relate more easily with the new info you taught me because of the experience. I have 5 years experience in teaching lower class or beginners so what I already knew blended well with your new concepts." 
"Well done! Well done, Stellar. I have been very glad and excited to be involved in such activities. I have learnt a lot especially on how I am going to help children in growing as far as literacy is concerned. I have also even drawn ideas on how I can help Grade 1 using the planning format you gave us. I am really grateful. Come again with new ideas. Thank you."
"Emergent reading was an eye opener. I now can tell what an emergent reader is. I also enjoyed making the booklet for my library and I am going to start my booklets today. I am enjoying the workshop indeed."
"Course is getting more interesting every day. Making teaching very interesting and learning more fun for the little ones. With these learning methods every child will miss school every Saturday and Sundays."
"The week was fantastic. Even though I have been educated on early reading, I did not know how to implement my knowledge to the children. Now I can teach my children to read and I am sure I will make it this time. A very big thank you to Angelique, Cathy and the Wilderness Team. We will give you feedback through your website."