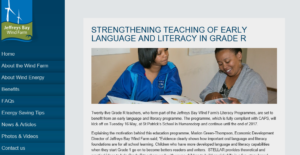 #WordNetworks member #ITEC is now working with #STELLAR in Humansdorp!
Twenty-five Grade R teachers, who form part of the Jeffreys Bay Wind Farm's Literacy Programmes, are set to benefit from an early language and literacy programme. The programme, which is fully compliant with CAPS, kicked off on Tuesday 16 May, at St Patrick's School in Humansdorp.
Explaining the motivation behind this education programme, Marion Green-Thompson, Economic Development Director of Jeffreys Bay Wind Farm said, "Evidence clearly shows how important oral language and literacy foundations are for all school learning. Children who have more developed language and literacy capabilities when they start Grade 1 go on to become betters readers and writers. STELLAR provides theoretical and practical ideas to help Grade R teachers work with young children to build crucial skills in a fun, story-based, activity-rich programme,"
The STELLAR Programme, which stands for 'strengthening teaching of early language and literacy in Grade R' is designed to support Grade R teachers to develop the knowledge and skills they need to teach oral language and emergent literacy effectively.
Read more: https://jeffreysbaywindfarm.co.za/strengthening-teaching-of-early-language-and-literacy-in-grade-r/