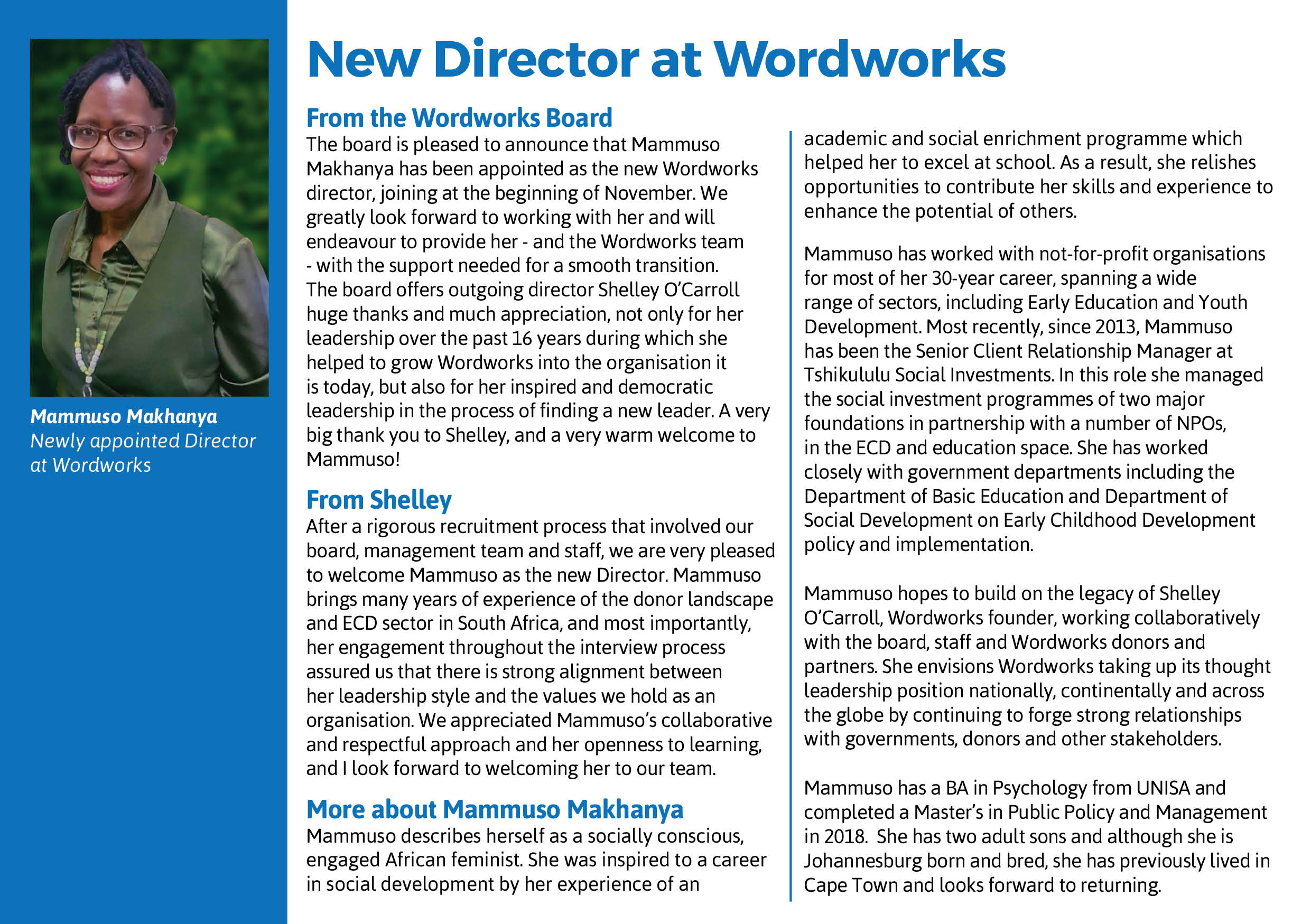 Outgoing Director
Shelley trained as a remedial teacher and educational psychologist. From 2002 to 2007 she specialised in assessments and support for children with reading difficulties. In 2006, she completed a doctorate at the Institute of Education at the University of London. Her research for her PhD was conducted in South Africa and explored ways of supporting the early literacy development of Grade One children learning to read and write in English as a second language.  She is the founder director of Wordworks.
Finance & Operations Manager
Gabriel worked for the Public Service in various Ministries for more than sixteen years. He worked as Accounts Clerk, Human Resources Clerk, Accountant and then as Internal Auditor. He has Diplomas in Financial Accounting and in Credit Management. He also has a degree in Business Administration (BBA) and has done a Masters degree in Business Administration (MBA). Gabriel has been with Wordworks since 2010.
Andrea George
Communications Officer
 Andrea has had 15 years of language teaching experience at various primary and high schools, as well as tertiary institutions. She also co-ordinated the Writing Centre at UWC for 3 years. After a stint in the corporate world, Andrea developed her interest in communications when teaching the subject in South Korea. For 6 years, she worked as communications manager at the Black Sash, first part-time and then full-time, before taking up her current position in communications at Wordworks in 2016.
Edeline Boka
HR & Office Administrator
Edeline worked as a Secretary for the Ministry of Justice for three years before joining Wordworks in 2012. She has a B.COM in Human Resources Management and a National Diploma in Secretarial studies. She has also attended various short courses in administration and Human Resources.
Christine MacLachlan
Programmes Officer
Christine joined us after working in the corporate industry for 12 years.  She graduated with an Executive Legal Personal Assistant Diploma and then worked as Marketing Assistant in the Financial Services Industry while studying for her Bachelor of Business Administration Degree through Unisa.  She then went on to work in Stellenbosch for a Property Development company where she was a Personal Assistant for nearly 10 years. During this time she graduated with a Post-Grad Diploma in Marketing Management through Unisa.  She has a great love for South Africa and is delighted to be working for an organisation that is building up the younger generation and making a difference in our beautiful country.
Jane Coombe
Deputy Director
Jane taught at Mount View and Cathkin High Schools on the Cape Flats, during the 1980s. She was awarded a Masters Degree from the Institute of Education, University of London and then worked at UCT where she was involved in teacher and curriculum development. She was Director of the Mathematics Education Project and went on to establish UCT's Schools Development Unit. She was National Programme Director at the Black Sash for eight years before returning to her roots in education by joining Wordworks.
Colleen Hughes
Head of Operations
Colleen started her career as a teacher and taught for seven years in Cape Town.  After completing a Master's Degree in Education at Sussex University (U.K.), she took up a range of positions in educational (and broader social science) research, project management, monitoring and evaluation, strategic partnerships, strategic corporate support and business performance management. Her most recent work was at an international NGO where she provided advisory and business operations support to national NGOs in various African countries. In 2020, Colleen completed a Master's Degree in Development Practice (MDP) at the University of Pretoria. 
Data Management Officer
Before joining Wordworks in 2015, Isabella (Isa) obtained her BA from the University of Cape Town where she majored in English Literature, Film Studies and International Relations. She has experience in tutoring both foundation phase and high school learners as a volunteer, and has also worked as a tutor for university students. She is currently enrolled at the Centre for Research on Evaluation, Science and Technology at Stellenbosch University, studying part-time towards a PGDip in Monitoring and Evaluation Methods.
Finance and Materials Officer
Tahirih completed Parts 1 and 2 at the Institute of Chartered Accountants CA (GH), and then started working for Latex Foam Rubber Products Limited in 2008 as a receptionist.  She became an accounts officer (2009 – 2012), and then was promoted to Assistant Accountant (2013 – 2014) upon completion of Level 2 of the Institute of Chartered Accountants (GH).  In 2016, she was the co-ordinator of the Wordworks Ready Steady Read Write Programme at Liwa Primary School (Nyanga), while assisting in the Wordworks office on a part-time basis. Tahirih joined the organisation on a full-time basis in 2017.
Jacqui Botha
Lead Designer and Materials Coordinator
Jacqui obtained her BComm (Marketing and Communications Management) from the University of Pretoria in 2007. She worked in corporate fashion for few years before realising that she had a passion for all things design and layout. After working as a freelancer for many corporate businesses and NGO's, she solidified her passion for design with several short courses, focusing on book design and editorial layout. She has been working with Wordworks in a part-time capacity since 2011 and joined full time in 2021. She is as passionate about helping people as she is about designing beautiful things.