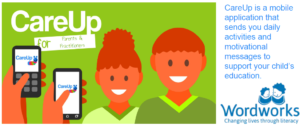 Where do you get your information about parenting from? We know that being a parent doesn't come with a manual and we learn about parenting from many different sources. Perhaps you get advice from your mother, your aunt, the local clinic, magazines, your place of worship or the radio.
Now you can even get information about parenting from an APP on your phone! The CareUp App will give you some new and interesting ideas (in four languages) about how to support your young children's learning and grow their brains.
Download this leaflet here to get more information on how to access the App, and how to use it.