Resources Page 1
Here are all our available free resources. For a more targeted search, see our age-range and resource-type dropdowns. Those who train with Wordworks receive a comprehensive pack of programme resources that are not currently available to the public.
For parents, caregivers and teachers of babies and young children
Print our 'Make your own' booklet with instructions for making inexpensive resources that encourage language development and make learning fun.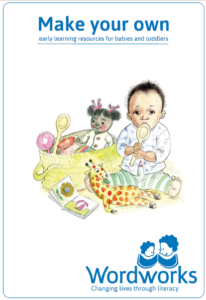 Download a black and white version of the booklet here.
Download a full colour version of the booklet here. Note that this is a low res version to make it easier to print at home.
Knitting pattern for Wordworks Little People