HSP cluster sessions were held recently for HSP Teacher-Facilitators to reflect, refresh their knowledge of some of the training activities, and look ahead to the rest of the year. We ran three two and a half hour sessions in May with over 50 metro schools and more than 200 facilitators. Participants welcomed Wordworks input on sections of the programme that required further discussion, and keenly shared experiences of the courses they ran with parents. Here are some scenes from these clusters showing participants and the Wordworks team in action.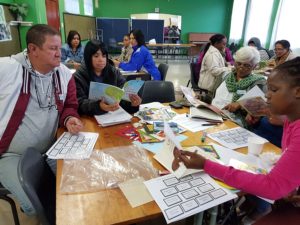 Some shared experiences from programme participants
Have you as teachers noticed any changes in the children whose parents did the programme this year?
'Yes, they are more confident. There is this bond… my mom knows my teacher very well…'
'Children have routine [at home]. More lively in class. Children more confident. Learners understand terminology and vocabulary better.'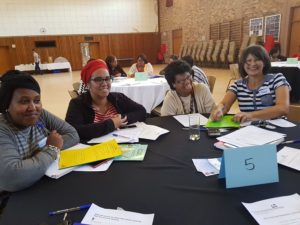 Since facilitating the HSPP, has anything changed in your classroom practices or in how you relate to the parents at your school?
Teachers feel that they can now communicate more freely with parents and that they have felt more appreciated by the parents. Parents now seem to be more open to receive guidance and suggestions from teachers regarding their children.
Parent feedback on the programme
'When I joined the class, I didn't know what to expect. Thought it would be things I know by heart. As a crèche teacher it was a great experience. Took me out of my comfort zone. It was nice to see the passion in some teachers. It made me feel like a child again. I believe that parents and crèche teachers can benefit from taking courses like this. I love the games. I like the interaction that parents had with teachers. Teachers were well prepared. They asked questions. They listened. It wasn't boring. I would definitely attend courses like this if presented again.'
 'I now realise that making interactive time with my child is important in turn this is helping me with self development. I too have a challenge myself as a parent when it comes to writing. Now the programme is going to help me while assisting my child. This has been an eye opener, about how to be a parent that is involved into our children's life.'
'The programme has helped me with my 17 year old too. Now we both have time for the little one. There is now routine at home and peace.'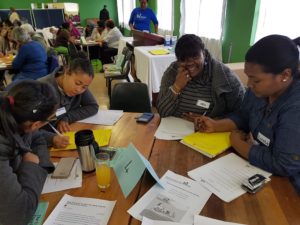 Please see our facebook page for more pictures of these workshops.