Wordworks mentors have met with about 230 Ready Steady Read Write tutors who attended one of 9 cluster meetings in May and June. These meetings were arranged to inspire and inform the tutors and also to maintain a link between the Ready Steady Read Write sites and Wordworks.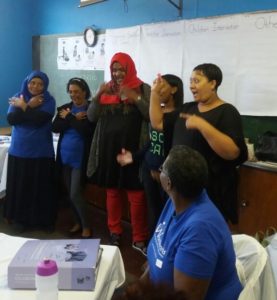 At each session, after having fun with an ice-breaker, tutors shared with each other their successes and challenges of the programme. We also used this opportunity to revise the process of assessing children which is done three times a year.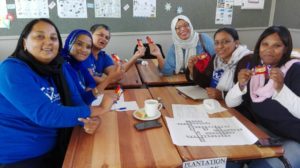 We ended with a fun crossword to consolidate the content of the meeting.
Each tutor received a personal book gift and alphabet charts for the children they work with. Our facebook page has more photos from these cluster meetings.
Tutors shared some of their insights and experiences with us:
I would encourage others to become tutors because:
It gives me a great feeling to help children that just need a little bit of a push. And to uplift yourself!
There is a nice experience to know what children think when they are taught. Also the skill of becoming the good example to them. Someone who inspires them to go further with their studies.
'N mens voel menswaarding en siels tevrede as jy a kind kan leer lees and skryf, en sodoende iemand se menswees kan verbeter
Since becoming a tutor I have learned:
That giving back to the community is very important. If you can be able to help those in need, it means that you know how to share Ubuntu without expecting something back.
That learners really need our help. It is difficult for them to cope in the classroom because they do not get one-on-one support.
I decided to become a tutor because:
I needed to feel useful in the community. My granddaughter had a problem with reading and I was unable to help her. I realised how frustrated she was and felt helpless.
I have a passion for working with children.as a child it has always been my dream to become a teacher. I started my studies at the College of Cape Town … but could not complete because of financial difficulties, but by becoming a tutor I can still do what I love.
In addition to the tutoring I do at school, I also use my tutor kit to:
(Tutor) my nephew, my niece my stepson. It really helps a lot. I can even play the games in my Reading Club.
Becoming a tutor has given me the opportunity to:
Challenge myself, and I am thinking of studying further going to study teaching. Help those (children) that are struggling.
Be more open-minded, and have tried to further my studies
In my work as a tutor, the thing I have found the most difficult is:
Skipping a day, not going to work. It just feels so unreal to spend a day without seeing those kids.
Having to work at a different pace with different children. Having to keep the children's attention is something that was very new to me but I overcame it.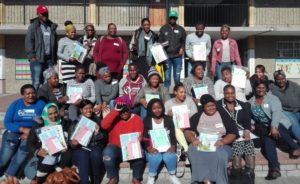 We celebrate these women and men in our communities making a difference
in children's lives!
Here is a list of schools in the Western Cape that run either the Wordworks Ready Steady Read Write or Home-School Partnerships Programmes, or both.