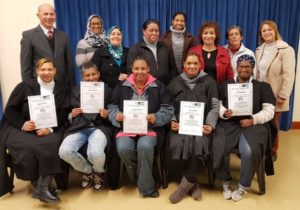 We are nearing the end of a very fulfilling rollout of the Wordworks Home-School Partnerships Programme in the Western Cape this year. Just under 800 determined parents from 50 schools/organisations have successfully completed an 8-week course facilitated by dedicated teachers from their children's schools. (See our facebook page for more graduation pictures). The focus of the course was on how parents/caregivers can support their children's informal learning at home.
Read about what some parents have to say:
Not only does my child enjoy learning and doing homework, but the whole family gets involved!
Homework is no longer a fight session, but a time to learn for myself and for my child.
The later classes were exciting– the reading, conversations,  the how, what and why… My daughter talks so much more now. She shows much more interest in reading. Also the class gave me more confidence, more patience. It starts at the crèche, where my son is. I am going to share with them what we do.
My child in Grade 3 was struggling with reading, and now that I know how to break up the words, and be very visual, it is getting a bit better. Now I have a clearer understanding of what to work on. Also about managing my time, and having patience.
Some teachers' comments:
Three things hit home for our parents. They began to understand that learning begins at home. One of the fathers said the following: I've learnt a lot, thinking that learning begins at school, now I know it begins at home'. 
When we engage with parents, we become one of them. It's my community, I am part of the group.  We are giving back. My husband tells me I am lit up. It works for me, it works for the community, it works for the child.  It's not work – it's something that we want to do.
This year 15 parents came and 15 graduated – mostly grandmothers,   even though they had to walk through very violent areas.   We work together in our FP and everyone assists. We didn't see it as another job.  We want to empower our parents to empower our learners. We have a choice about whether we will go back to Lavender Hill or not, but our children don't have a choice. Thank-you for giving us something extra. Parents see that …they have a voice.
We applaud both the dedicated parents (and caregivers), and the teachers who worked together after school hours and sometimes on weekends to help build strong language foundations in the early years.
Read more about the Wordworks Home-School Partnerships Programme .