Stories from our network
Andiswa Sondezi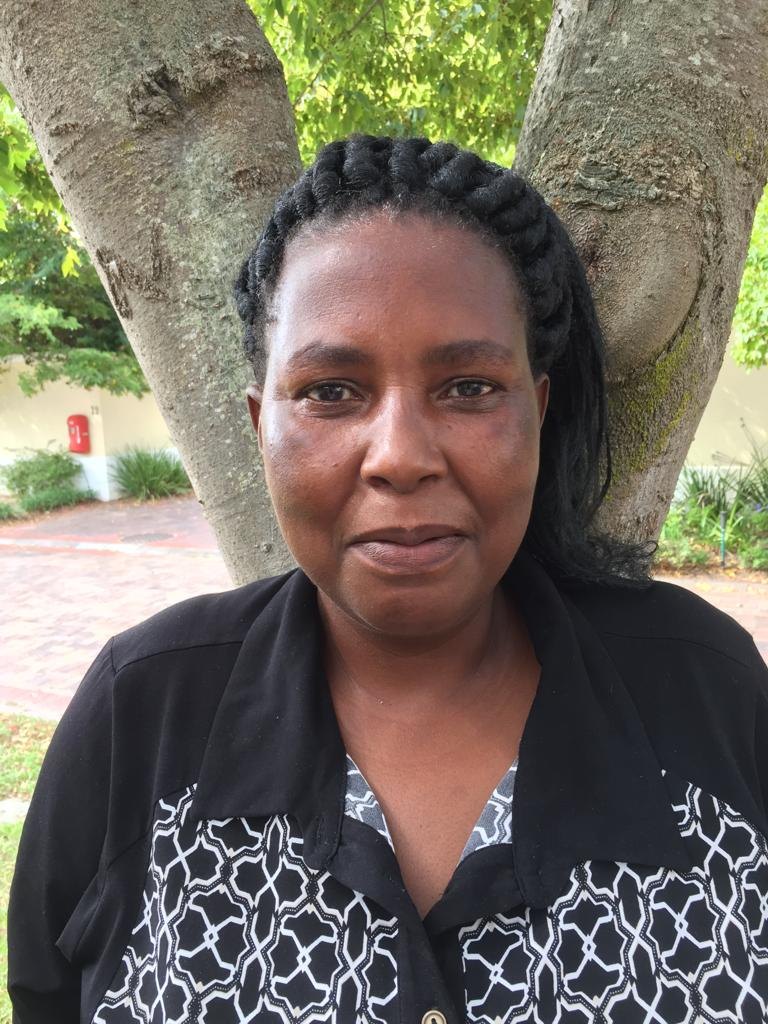 'I started attending the Wordworks Home-School Partnerships programme sessions in 2017 at Intshayelelo Primary School, where my grandchildren attend. We were invited to the school and told about the new programme for parents to better assist our children informally at home. This was my first experience of any kind of early literacy programme.
I never thought that I could ever be able to assist my grandchild in the learning process. What was exciting for me was that the things we did in our everyday life could be a great opportunity for me to teach. I soon realised there was so much more that I could do as a grandparent to give my children a good start in their education. I was also developing as an adult because I started to be interested in learning more and realising my potential. This got me excited and looking forward to what was next for me.
I think it is very important for the school to work with parents because this could help build a solid foundation in the child's experience of learning. When I was growing up, the home setting and the school environment were completely separated and we grew up thinking that was normal. When the school opened their doors for us as parents with the HSP programme it bridged a big gap of communication and understanding between teachers and parents. When communication was possible, we then started sharing knowledge with each other in a free space allowing for opportunities of learning for both to convey the same message to our children.
Graduating from HSP programme was my first experience of receiving a certificate.
We were then offered the opportunity to train as co-ordinators for the Wordworks Ready Steady Read Write tutor programme. This gave me the opportunity not to only help my grandchildren but to assist in the school community as a whole.
I have come a long way since my first introduction to the Wordworks programmes. I am now studying at the College of Cape Town Level 4 in ECD which I never thought possible. I am also an assistant for the Grade R teachers on the days when I'm not doing RSRW. This has been life changing as I was a domestic worker and never realized my dream. I am living my full potential in my later years, and in the process helping my children and my community.'
An interview with Erina about her experience with the Wordworks STELLAR programme.
*How long have you been a Grade R teacher?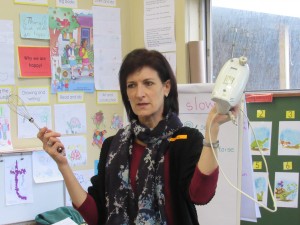 10 years
And how long at Oakhurst?
I introduced the first Grade R class at Oakhurst 5 years ago.
*What is it about teaching this age group that inspires and excites you?
I get to mould some part of their personalities while they are young and 'mouldable'. They are absolute 'sponges', but it's not just about the cognitive – it's about looking at the whole child – and it's so exciting to see their social interaction develop as well.
*How have your girls responded to the STELLAR stories and activities?
They have absolutely loved them! They get very excited about the role play. They use the vocab we have discussed. It's the richness of the programme. They can take the stories and apply them to their real life. They have also enjoyed writing their own stories, and now I have a bigger group of girls than ever before who are willing to have a go at writing!

*What do you feel STELLAR has brought to your Grade R classroom?
It has brought a structure which is used as the basis for my home language slot. It makes it easy to work it into our daily programme. The Letter & Sound games and all the extra things are enjoyed, even during free play time.
*Have you had any comments from any parents or any colleagues about the STELLAR component of your Grade R curriculum?
Yes! Parents say the girls are excited about reading their stories to their parents (though they didn't think they would be). Erina has noticed that a bigger group than previously (about 20 out of the 24 in her class) are keen to have a go at reading.They read their little books and other books too! Parents can't believe that they are sounding out the words.
*What was your feeling/response when you were asked to be a Lead Teacher for the ELIT project?
When we were informed, we didn't really understand what we were being asked to do, or what the programme was all about. Two weeks on one story seemed too long and I thought the girls might get bored. However as I have worked in the STELLAR programme, I realise that there is so much you can do by way of extension to suit your group.
*And how did it play out? As you expected it would?
I discovered that because you deal with the story for two weeks, the extensions are deep and you can deal with them. The children initiate the extensions – and I allow them to lead me. It takes them to a point of self-initiated learning! There were discussions about the different kinds of buck, and the various members of the cat family.
*Can you share one or two highlights? Feel free to include challenges as well.
The role play was particularly successful. The girls found their voices, even if they were quiet. Because they knew what the characters said, they felt confident.
There was a lot of discussion and reasoning, for example they had to decide when Frog (a STELLAR story character) should go into Bushbuck's house.
Then also the repetition and consolidation of sounds that led to the girls being more confident. They started sooner in the year (than previously) to have a go at writing.
*Personal growth on this journey?
I have grown as a teacher. This programme has helped me to see how far you can extend the children… and then they go even further! I loved being a lead teacher.
Engaging with other teachers has been wonderful. When teachers are supported and encouraged, they will move from strength to strength. I am a stronger person, more grateful for what I have, and more hopeful for education in this country. Having teachers helping teachers is the way of the future – not only for Grade R, but for education in general.
Regarding my interacting with the teachers: it made so much sense to discuss things, and then you know that those teachers are experiencing what you are talking about. You feel like they understand! We had spoken about the CAPS but it was only when we sat with the old and the new CAPS documents on the tables that the lights went on.
I felt so energised after the Block training – seeing the dedication, the positivity, and the willingness to put it into practice. It was mind-blowing for me, and so very encouraging to see the calibre of the teachers.
As much as I have been able to give, I feel like I have just received so much more!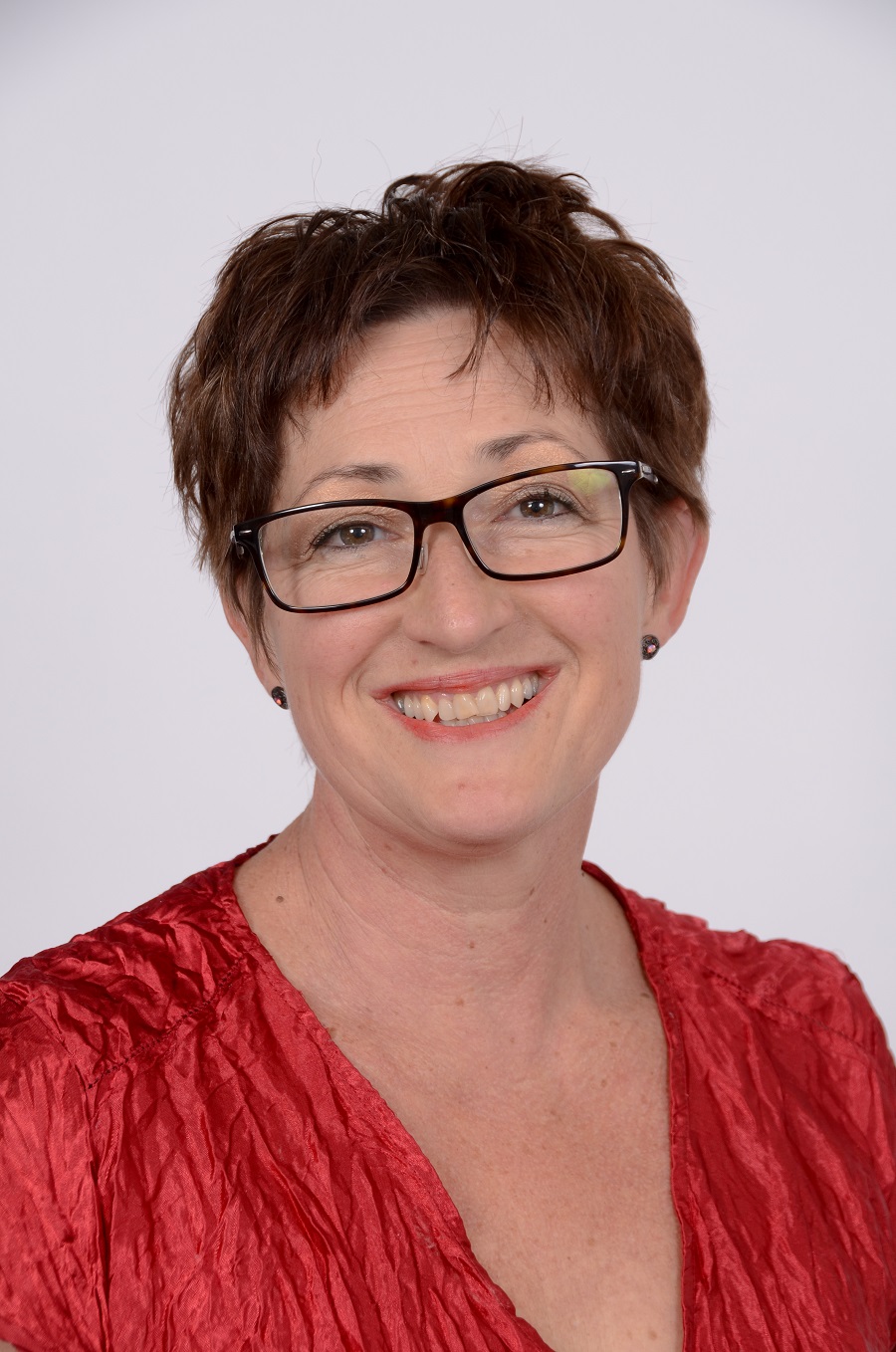 My name is Babette le Roux. As a teacher and a researcher I was troubled by the poor performance of South African learners in national and international literacy assessments. Knowing that early intervention is key, I directed my attention to ways of supporting informal learning opportunities at home.
That interest led to a doctoral study with the theme: The role of family literacy to support emergent literacy in young learners. The aim of the study was to investigate how family literacy programmes can assist to bridge the literacy gap between informal learning at home and formal learning in school so that young learners can come to school better prepared.
I implemented the Wordworks Home-School Partnership Programme and the outcomes confirmed a greater sense of community, improved confidence in parenting for literacy development, improvement in quality of parent-child interaction and a raised awareness of literacy learning opportunities at home. Implementation of the programme also strengthened the relationship of trust between parents and teachers and created a new level of confidence to approach the school whenever parents need to seek clarity on curriculum issues. The teacher-facilitators also reported less tension and stress around children's reading in the classroom; that the children who had participated in the programme have much more confidence in the classroom and feel less intimidated by reading and learning.
Family Literacy Programmes have much to offer if we are serious about improved literacy outcomes.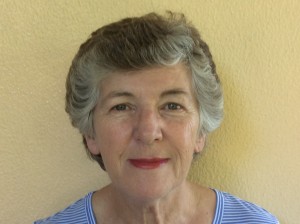 Here is another remarkable story by a member of the Wordworks network – this time from KZN. We are inspired by women like Sheilagh who, in their later years, believe they can make a difference and take the initiative to start a project.
Firstly many thanks to Wordworks for your inspiring programme and support. Without that I would never have got started on this venture. My name is Sheilagh Bill and I am the Co-ordinator of a "Ready, Steady, Read and Write" programme in KwaDabeka, Pinetown. I feel strongly that education is the key to uplifting our country and that reading skills are crucial. Now that I am retired I have time to give back and wanted to give children a helping hand. My background is in software development, so I have no teaching experience, but I do have a passion for reading. I wanted to join a project and heard about Wordworks from my daughter in Cape Town. It seemed just the right structured programme with all the resources provided to get started.
My friend Elaine, who is a teacher, agreed to join me and we approached our church for support. After the Wordworks training which was so interesting and helpful we started last year with 3 volunteers and have grown to 7 this year. We travel to the school where the principal welcomes us and we are building good relationships with the teachers. Fortunately our church, Westville Methodist, has a long association with the school and there is a group helping Grade R with some art and stories. All our volunteers are from our church and we have one Zulu lady who is a great asset as our biggest challenge is that most of us don't speak isiZulu which is the home language of pupils and teachers.
We have chosen to focus our programme on First Additional Language (English). We work with Grade 2's who have very little English although by Grade 4 the children are supposed to be taught in English. We work on vocabulary to try and teach sounds and letters. The children are very shy to start but soon warm up and love coming to the sessions. It is hard to leave children out, but we can only take 28 out of 96 children in two Grade 2 classes.
Our volunteers are so dedicated and all love the programme and we have become a close knit team. We also started a school library last year and have collected about 600 books. It is still a work in progress and getting it to be used optimally is something I will be working on this year.
"I am Amanda Sickle, and I am an avid reader. Amongst other things, I believe in legacy and random acts of kindness.
I work full-time at a research organisation. In my 'other time' I manage an NPO, called The Reading Room, which I founded in 2012. Reading for enjoyment is in my nature, so I was horrified to learn that among Grade Three children, the national average performance in literacy was 35%; and in numeracy, 28% (Department of Education, 2012)
I started my 'reading-assistance' journey as a volunteer for Help2Read. The movie 'The Reading Room' inspired me to start reading assistance free-of-charge from my home, which soon became too small. We now lease retail space in Ottery – I pay for this from my salary. Ten volunteers, known as 'reading buddies', assist between 45-50 learners in Grades 1-12 every Saturday morning.
I stumbled upon Wordworks perchance while searching online for resources. I must confess I am hooked on their materials! They're so easy to implement that I use them all the time. Wordworks also trained me to facilitate workshops to empower parents to support their children's learning.
I see the difference all this makes to a child's self-awareness and development and, of course, the school report is all the evidence I need to know that I must be doing something right! Often we need to step out of our comfort zones and just do it!!"
Carmen Petersen is a Grade One educator at Eastville Primary in Mitchell's Plain, and a wife and mother of two teenage children.
"I got involved in the Home School Partnership Programme because I realised that the parents at our school are eager to help their children but are not equipped. I believed that assisting and empowering them would bridge the gap between home and school, and that our literacy levels could only improve.
We received a very positive response from our parents. Some even took leave every Thursday just to be present every week. The big 'aha moment' came when parents realised that they weren't expected to be like their child's teacher at home. They were to put the fun back into being a parent – not a stressed out parent who shouted and punished the child. They started seeing all the teaching and learning opportunities that came up on a daily basis and could confidently reinforce what the child had already learnt at school.
I absolutely LOVED facilitating the Wordworks programme. There wasn't a week that I sighed! I became much more relaxed with the parents and we formed a WhatsApp group. And now that it is all over, we have a support group meeting twice a month, just to stay connected."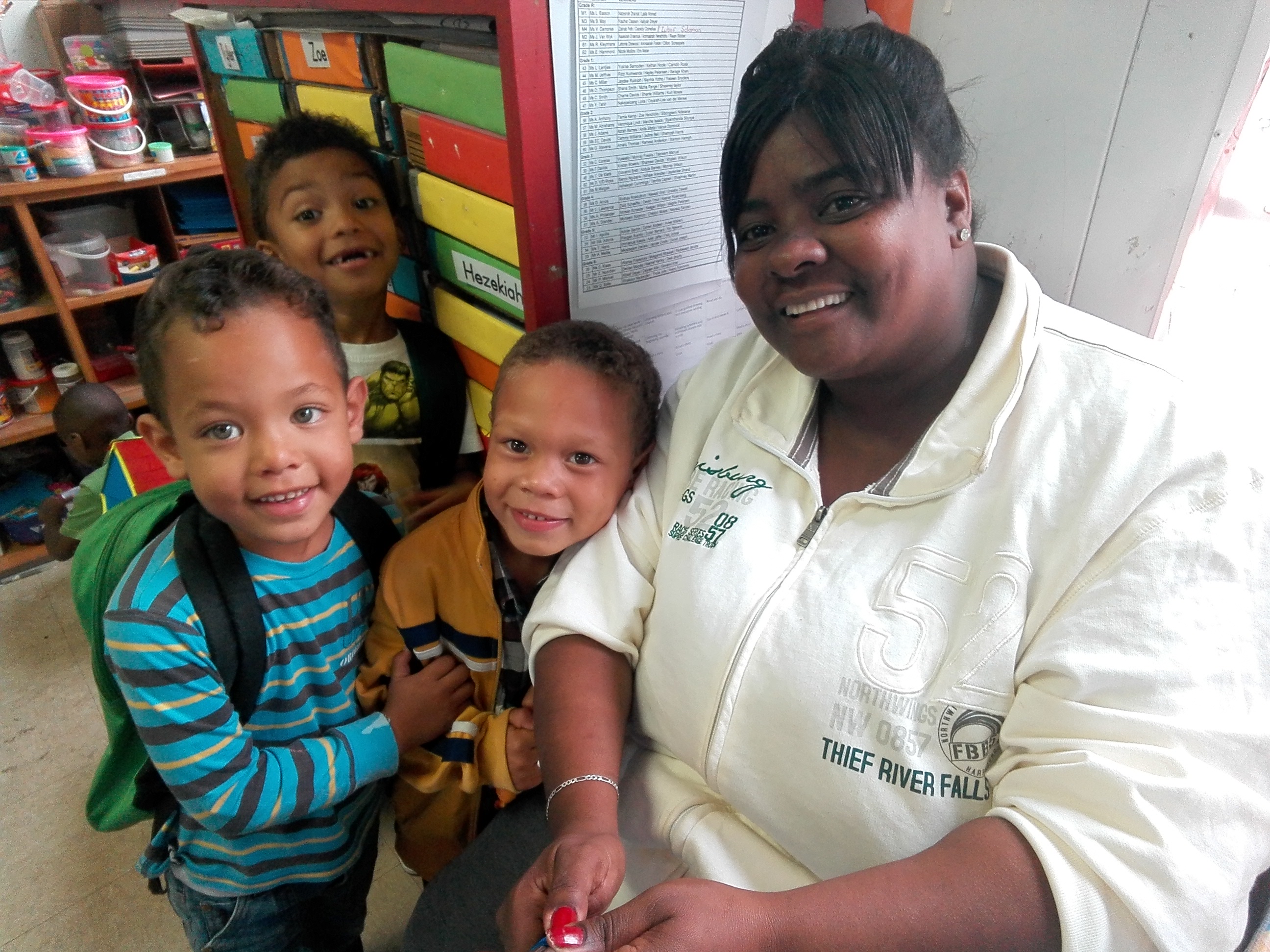 Gail Lindsay is the Coordinator of the flourishing Ready, steady…read and write Programme at West End Primary School. In 2016, she will also assist Spineview Primary to set up their programme.
"I've been working in the community, since the age of 13, in sport, youth groups and as a counsellor. I was introduced to the lovely Wordworks parent programme when I was running an aftercare from home and then I attended training for the Ready, steady … read and write Programme. After the first day of training, I knew I wanted to continue.
When I started as Co-ordinator at West End we had very little space. Volunteers did not have chairs, and were kneeling on the floor during sessions. Now, because of the results we are achieving with learners, the Principals Association is building us a Wordworks classroom!
I don't want my 22 Volunteers to scatter, so we support each other. After the Volunteers arrive for their classes, they use the hand sanitiser, we pray, talk to each other, and only then we fetch the kids. The day does not end on the school grounds, we like to stay connected on the group chat every day. We meet monthly to discuss issues that Volunteers write in their diaries. This makes us aware of changes in our kids so we can tell their teachers. Recently we all went together to join the library. It is a whole new environment!
I don't work for any boss, I'm a volunteer…and how I enjoy it, because I am doing something positive with my life! What keeps me here is the passion I have to work with children and my love for the community."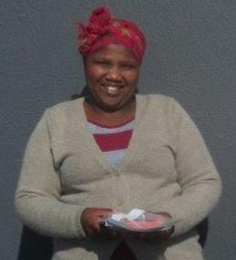 Mrs Mantongomane lives in Capricorn. The family's home language is isiXhosa. Not only has Thando mastered English as his language of teaching and learning, but he is now also part of the enrichment class for children who are top achievers. This is an inspiring example of what can be achieved when parents get involved in their children's learning at home!
"I am Nolake Mantongomane. My boy, Thando, is in grade 5 at Capricorn Primary. He was 3 years when I was attending the course (for parents). Thando was at Sunrise crèche.
Before the HSP programme I didn't pay attention. When he came from school, I didn't support him. After doing the programme I became more helpful, I learn – I must be more supportive of my child's education. And I still support him. Thando's father also changed – same as me, before that he did nothing. He is still involved with Thando. He goes to karate with him and goes to the library. Before bed Thando reads with his father."
When asked what were the most important things she learnt on the course, Mrs Mantongomane smiled broadly and said: "ninzi …. ninzi" (a lot).
My name is Ada Brown and I am a Grade R educator at Littlewood Primary School in Mitchells Plain. Growing up was not easy for me as I lost both my parents at a tender age of twelve. My sisters and I was then sent to a children's home. It was here where my passion to work with children started and I am still assisting children in the community.
Being a teacher in a disadvantaged area comes with its challenges. Here the learners are exposed to poverty, violence, gangsterism, drug and alcohol abuse.
When I heard about Wordworks I thought that it was going to be the same as all the other literacy and language workshops. After the first workshop I saw that there was something different. I left the workshop very excited. I immediately read Ali and the paint and prepared the activities for the week. By the third day I could see a change in my learners. The shy learners were participating and the busy learners settled down because they could not wait for their turn to tell the story, using the puppets.
Wordworks is a very positive way of teaching early language and emergent writing skills. For me personally it really works and it is designed in such a way that it caters for all the different ways in which children learn. My learners have become strong emergent writers and their vocabulary has increased tremendously. They have also become very confident in telling stories and role playing them.
When Angelique asked if she could come and film my learners and I, I said "yes" because I knew that with the filming, many teachers, parents, community members and volunteers would be encouraged and empowered. This has been an exciting and rewarding journey for me as well as for the learners.